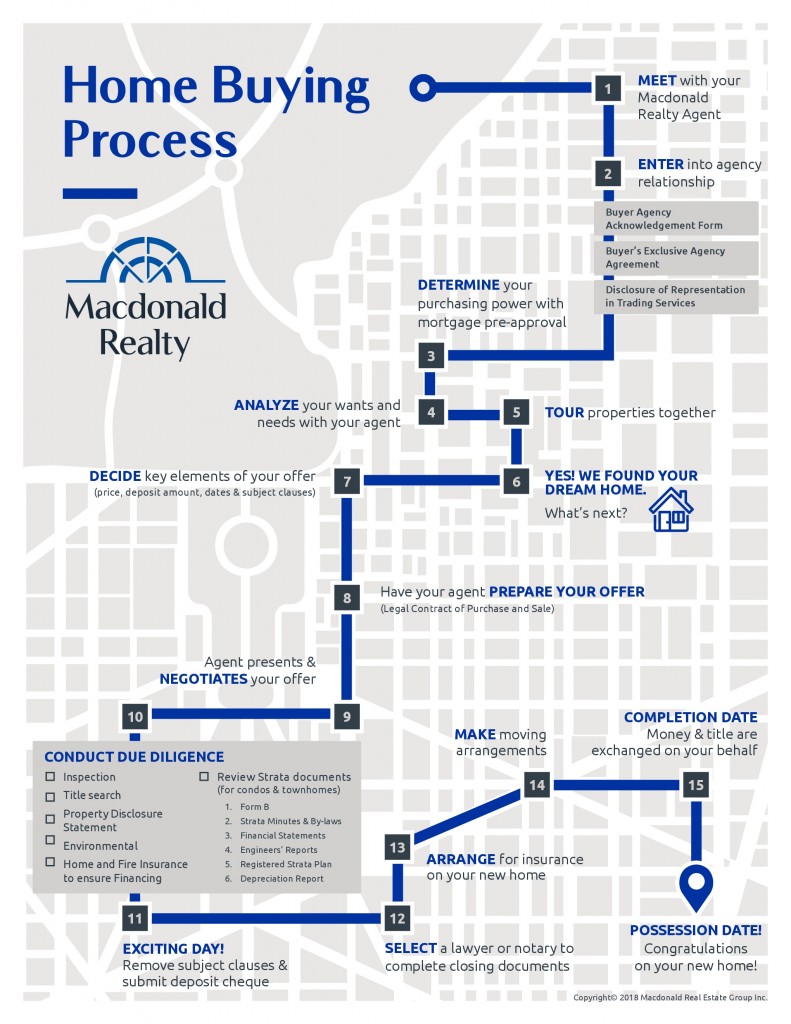 Backed by an impressive portfolio of innovative programs and tools, professional support, and the combined resources, services and knowledge of over 20 offices, I'm ready to put my extensive expertise to work for you.
No matter where you're starting out on your real estate journey – whether you're looking to buy your very first home, looking to buy an investment property, or dreaming of moving away, I'm equipped with the latest information and strategies to help you with the purchase of your new home.
Here's how the process works:
Let's meet up

to determine your real estate goals. From there, if you're happy to move forward, you'll enter into an agency relationship

Once you've determined your purchasing power with mortgage pre-approval, we'll analyze your wants and needs and start touring properties together

Yes! We've found your dream home. From here, I'll prepare your offer, present it & begin negotiating

The big step! Next, we'll conduct due diligence. This includes the inspection, title search, property disclosure statement, environmental, home and fire insurance and reviewing the strata documents (for condos & townhomes)

You'll remove subject clauses and submit the deposit cheque

Next, you'll need to select a lawyer or notary to complete the closing documents, arrange insurance on your new home and make moving arrangements

Completion date! The money & title are exchanged on your behalf

Possession date! Congratulations on your new home
Real estate, like life, never stands still. Momentum is critical, as is acting when the time is right, and recognizing opportunities. I'm here to help you see the potential and make it happen.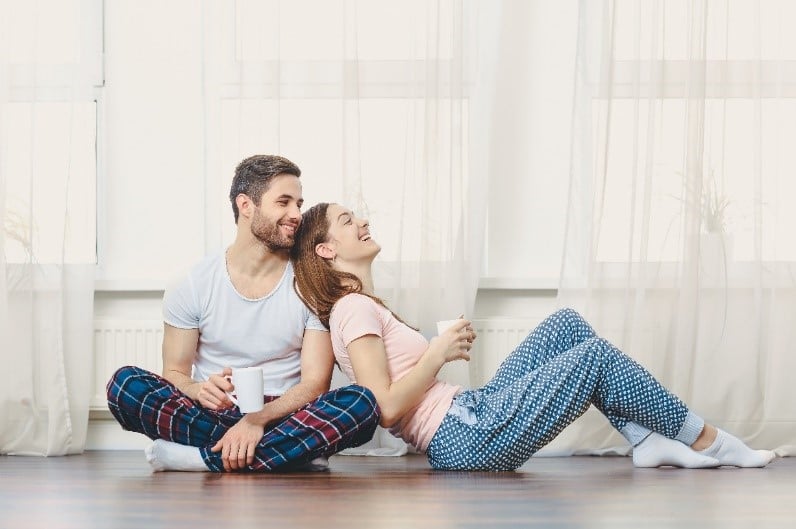 Testimonials
" I couldn't recommend a better agent to help you navigate the home market. Gord was always there for us to answer any calls or questions. We viewed at least 15 homes before we settled and closed on our new place. You can't go wrong using Gord... highly recommend! "
- Todd & Tracey Racho - Port Moody
" They were very good at providing me the microscopic details and broader perspective of the property that I bought with their help. They did not put me under any pressure, so I was able to make a decision on my own terms. "
- Suresh & Bharathy Rajendran - Maple Ridge
" We are very happy with our new home, thank you Kim for all your hard work. You were not one of those "pushy salespeople" that sugar coat every home just to make a quick sale, instead you went through all the pros and cons with us in order to allow us to make an informed decision regarding the home of interest. This helped us build our confidence in the purchase we made. Additionally you helped us secure a price that was more than reasonable and ensured our financial security for years to come. In the end we were very happy with your service - you proved to be very professional - and we hope to work with you in the future! "
- David Weber and Family - Port Coquitlam
" Dear Gord, My husband and I just wanted to thank you for the excellent service you gave us when we were buying our first home. You made a usually stressful event into an enjoyable experience. You were very honest and professional when presenting the houses and your tips have helped tremendously. When we finally made our decision, you worked very hard and diligently for us to obtain the house and in the end you got us a beautiful home. Everything is wonderful and we have more than we ever dreamed of. Thank you for treating us so well as first time buyers and we will definitely refer you anyone who is looking for an agent "
- Lorne & Daniela Whitehead - Maple Ridge
" Dear Kim & Gord, Now we have moved into our new home in Vancouver, which everyone of the family is very satisfied, and all our friends are very happy for us, that makes us feel really good, thank you so much for all your help!! Last spring, our house didn't get sold after 3 months' listing, during the whole time, the realtor even never suggested us of anything, It was very frustrating, and we didnt know what to do. In a year, among more than 20 real estate agents called or visited us, we chose you as our agent because we felt you were very honest, very knowledgeable, having an excellent communication ability, we just hoped we were making a right choice. As you also know very well about building up property, plus your many years real estate experience, you observe how thought people's eye a property be presented; with your advice we improved our house. Through your profession and a lot of "homework" you know very well about how a selling price could work. The house was sold in 2 weeks with a good price. That was very exciting! Through the whole process of buying, you always pointed out the some potential problems even we could not see through our own eyes when looking at the property. You are also a good negotiator; our offer on the property was taken care by you beautifully. We were very happy with the result! We felt very lucky to have you to be our agent; your hard work and great personality have won our trust. Our experience of buying & selling property is great, Thanks again! "
- Shane & Lillian Yang - Vancouver
" Gord & Kim Just had to let you guys know, there is certainly a difference between the actual work we are receiving from the 2 of you compared to ALL the Work "we were doing" for XXXXX (our past Realtor & so it will remain) during our previous 2 transactions. Kim, your write up is unlike anything we imagined. You guys definitely back up everything you say you're going to do & more. The proof is getting what you pay for. It was the right time & so ironic that we were just interviewing XXXX from1% Realty. Michele was praying for another sign that we were doing the right thing by selling our home. Sure enough, Gord you called & spoke to Michele while I was at work. Michele's prayer's were once again answered. God sent you to us. Sure glad to have your knowledge & expertise on our side. So looking forward to moving on with our lives! Also can't wait to have Kim's expertise on interior decorating. Guess I need $$$$ for that! ! Love to see your home someday. Who knows if we will follow our history pattern of selling our home every couple of years. Once again, our sincere gratitude. Your friends for life, "
- Rob & Michele Wong - Westwood Plateau, Coquitlam
" I recently moved and Kim handled both the selling of my condo and purchase of my new home. From our first meeting Kim made me feel at ease and her technical expertise with respect to building codes, strata plan regulations and general knowledge of the industry was clearly evident. Her 20 years as a realtor has resulted in her being one of the very best in the business. Kim helped make my experience much less stressful by handling all of the time consuming details and allowing me to concentrate on preparing for my move. Her timely attention to every question or concern I had, no matter how small, gave me confidence going forward. All I had to do was pick up the phone and she was always available to answer my questions. Teaming up with Kim for my sell and buy was a very positive experience and I would highly recommend her to anyone who is considering a move. You will not be disappointed! "
- Steve Joyner - Port Coquitlam
" Gord is an excellent real agent. Very knowledgeable and patient. Keeps the customer in focus and works hard to the benefit of the customer. Goes beyond the call of duty to provide service and care for the customer. "
- Guruswamy Sridhar - Vancouver
" I highly recommend Gord and Kim!!! They are a dynamic, friendly, considerate, organized and experienced professional team. Their ability to listen to our needs and eye for staging made it easy to create a beautiful home setting in a short time. From photos and listing this is one adventure that went beyond our expectations. The meticulously organized open house weekend was a huge success and we had multiple offers by Tuesday! If you are looking to sell your house, then Gord and Kim will get the job done in an efficient, respectful, positive and successful way. "
- Regina Kaiser & Mike McClung-Barber Street, Port Moody
" I've had the pleasure of working with and knowing Kim and Gord for over 20 years. I have owned and sold many properties over that time and every single property I have purchased or sold has been with Kim and Gord. The expectation of a realtor is to have the knowledge and understanding and experience. Both Kim and Gord have that. However what I find is most important is a quality that not all realtors have and that is looking at my needs first. Understanding what my goals are and working for me and putting the clients first! I've never had that feeling of "pushing the sale or purchase". As Gord has said to me many times "Mike if it does not feel right don't do it" Putting the client first that's important. Thank you very much for everything you have done over the years for me and I would highly recommend Kim and Gord as I have to a lot of my clients and friends. "
- Mike & Mug Michelin-Investor
" We have recently sold our home, and would like to share the experience we had with you. After interviewing several realtors, we chose Gord Karpinsky because we felt comfortable with him, and sensed that he cared about us as a family. He respected our feeling, timelines, and opinions. He educated us in an honest and clear manner. Throughout the listing period, we had many showings, and Gord knew the right balance between progressing with the job we had hired him for, and the privacy our family required to carry on with the enjoyment of our lives. We really appreciated his approach. Eventually, he was able to negotiate a full price offer for our home. He accomplished this feat in a sputtering market. As you would expect, everyone was feeling pretty happy. But in good times, when good things happen, great feelings come easily. Remarkably however, we were actually considering rejecting the offer. We were considering taking the home off the market. To our delight, Gord Karpinsky not only respected our judgement and reasoning, but actually took steps to make us feel comfortable with such a big decision in our lives. He wanted what was best for us. In the end, we finally decided to sell, and Gord was equally helpful, respectful, and classy. A good job is one thing. But certainly, the measure of a professional is his behaviour when he has everything to lose and nothing to gain, and yet still stands hand in hand with his client. Naturally, we have become huge fans of Gord, his skills and his personality, and would recommend him to your family, should you require his real-estate services. "
- David & Kelli Sidhu - Westwood Plateau, Coquitlam
" Dear Kim and Gord, Just a few words to express our gratitude for the first class job you guys did on the sale of our Coquitlam house. Not only did you get us our asking price, you made a potentially stressful situation seem effortless and free of any complications. Your professionalism was evident throughout the entire process and your upbeat and fun-filled personalities helped to put our minds at ease. It was a pleasure working with you both and we would recommend you guys to anyone who is looking for an agent. Oh by the way, thanks Kim for helping us get possibly the greatest deal of the year on our new home in Belcarra! "
- Dianna Duck - Port Moody
" Gord Karpinsky We would like to thank you very much for all the hard work, time, and effort you put into finding us our first home. If it wasn't for you, we would have been totally lost. We started out with a different realtor before you. We had given her all the information in what we were looking for, specifically a home for a large dog. She kept e-mailing us with condos, townhouses and duplexes, none of which allowed animals. Then one day you we met you and our problems were solved. We gave you the information and you found us a beautiful home. When we didn't understand part of the buying process, such as land title documents, we called you and you took care of it for us. Gord you have no idea how grateful we are of having you for our realtor. We will definitely be recommending you to anyone who is looking for an excellent realtor. You are someone who cares about what his clients want and need. You have gone above and beyond in helping us. Thanks for everything "
- Shawn and Debbie Stinson - Central Coquitlam
" Hi Gord and Kim; When we first met with you, you didn't know us, nor did we know you. The initial interview went well as you seemed honest, enthusiastic and sincere. We decided to list with you. We had some mediocre to bad experiences with real estate agents in the past so we were, of course, somewhat leery. With the first sale, you instilled complete confidence in us. Since then, you have handled the sale and purchase of 6 or 7 properties on our behalf and we could not have made a better choice of a real estate agent of your calibre. Gord, we can only say that you are probably the finest SALESMAN that we have ever come across. Your honesty, integrity, enthusiasm and product knowledge have far exceeded our expectations. You have, on every occasion, steered us in the right direction which not only gave us a definite advantage in buying at the right price, but also selling when the time was right and getting the absolute best price. Your negotiating skills are unparalleled. So few people have this capability, but it seems natural to you. You are our "real estate salespeople of record" and we will, of course, watch you perform the sale and/or purchase of our next property. Gord and Kim, it has been our privilege to have been associated with you and an honour to become friends. If you require verbal communication by us with any of your clients, most certainly give them our phone number. We will be only too happy to sell your services to them. Thank you for being there for us from the first to the most recent. The reality of getting record-dollar sales is something we will appreciate forever. You surpassed our wildest dreams. Once again, thank you. "
- Gary & Tina Booth- Central Coquitlam
" Dear Gord, Mahtab and I would like to thank you for the wonderful experience you provided us on the recent quick sale of our condo in Port Moody. Key factors that made our experience great was your long term knowledge in this business, your straight-to-the-point nature, and your negotiation skill. You are also very professional and offer a variety of networks and opportunities to make the most out of the selling process. Thank you very much for your support during this time. We highly recommend you as a real-estate agent. "
- Babak and Mahtab Mohammady - Coquitlam
" Dear Kim and Gord, Thanks for everything...You guys are the best in town! My wife and I want to thank you for your excellent professional services. We will never forget what you have done for us. 3 1/2 years ago Kim, you found us the perfect house when we were new to Canada, and provided us with contacts to get our Mortgage Approved with no Canadian Credit History...and we did. Luck....no I don't think so...I think it is the positive attitude & professional connections that Kim & Gord have developed over the years. And they are very persistent and don't give up. The years go by and we decided to sell our house...again the same professionals handled everything in a perfect dedicated manner. For all of that, thank you from the heart. Sincerely, "
- Philippe & Vilma Posada - Westwood Plateau, Coquitlam
" Gord is a great realtor who helped me buy my first apartment. He was very professional and he offered me a lot of useful information which I didnt know as a first time home buyer. He was always very quick to respond to my calls/texts/emails and made the entire process smooth and effortless. He helped me find a property that met all of my requirements. I would definitely recommend having Gord as your realtor, especially if you are a first time home buyer like myself. "
- Alex Palayev - Port Coquitlam
" We met Kim and Gord just after purchasing a property for investment purposes. Right after buying it, we regretted our decision. Being Landlords was not something that we were cut out to be. The thought of dealing with repairs and tenants was too stressful. We were very concerned about selling the property right after buying it and losing money. However after talking to Gord, we agreed that we would be better off investing our money in a property we could live in and raise our daughter in. We listed our investment property with Gord 2 months after we purchased it and Gord managed to sell it within a week at asking price, a full $12,000.00 more than we paid! We then decided to look for a new house prior to listing the home we currently lived in. Once we found what we wanted we took Kim`s recommendations on how to prepare our old house for showings. Once again, Gord & Kim sold our house within a week for the asking price. Gord & Kim helped us immensely. They put us at ease throughout the whole ordeal. They are a great team and true professionals who really care about their clients. Thanks Guys! "
- Rick & Gina Nolletti - Burnaby
" Finding a new home is always a stressful time but having just moved to Canada we thought we were in for a rough ride. That was until we met Gord. We provided Gord with the criteria required for our new home. He offered excellent advice about the housing market and pointed out great locations on the up and coming. With his in depth knowledge of the area we felt comfortable in letting him select viewings for only those properties which we would truly be interested in. Gord highlighted key features, potential enhancements and points to consider during viewings always with a personal touch. We were never pressured to make a decision until we were comfortable we had found the right one. We didn`t really know the process for buying a house but that wasn`t a problem. Gord kept us fully informed and handled every stage making sure we knew the options available to us. The negotiations were dealt with professionally and he made sure that the items on the inspection report were resolved. What we initially thought of as being a daunting task wasn`t bad after all. Gord has become a friend and not just a realtor and thanks to him we found a great family home stress free! "
- Dave & Bal Shergill - Maple Ridge
" I would like to take this opportunity to thank you for the time and effort you took to find the right home for us during my job transfer to the Lower Mainland. It was very evident that you had our best interest at heart, making every effort to find the house that best suited our needs and that each member of my family would be happy with. Even though one of the houses we were looking at was one of your listings, you didn?t in any way push us toward it, which is very commendable. You showed a real caring concern for my family's well being. You went that extra mile to establish a relationship with us, especially my children, knowing it was an emotional time for us all. It was very clear that you had an excellent knowledge of the Tri-Cities that was very helpful in choosing which area we wanted to live in. It was also very helpful that you kept us updated on the market prior to arriving to the Lower Mainland by emailing us listings as they came on the market for us to view that matched our criteria. As it turned out, we bought one of those homes. You didn't waste our time showing us homes that did not match our criteria, thus covering all the areas we were looking at and leading us to our new home in a very short time. Your background knowledge in construction was very helpful in looking for a quality built home. Thank you for your complete devotion of your time with us during the few days we were searching for and purchasing our new home and dealing with the building inspection. I also want to thank you again for going out of your way to contact our realtor in Victoria to help us sort out a problem with the sale of our home here. That was truly above and beyond. I would not hesitate to recommend you to anyone wishing to sell or buy a home. "
- Peter & Diane Martin-Citadel Heights, Port Coquitlam
" Dear Kim, I can't thank you enough for helping me with my first home. Without you guys I'd be lost and taken advantage of!! Thank you for being so patient with me (I know I'm picky). You guys have truly made this an unforgettable experience. I am now a proud 1st time home owner and it's all because of you (Kim) and your team. You guys do such an excellent job and are always on top of things. I will definitely look to you guys for any future help and refer you to anyone looking to buy or sell! Thank you once again! "
- Linh Hy - Richmond
Previous
Next